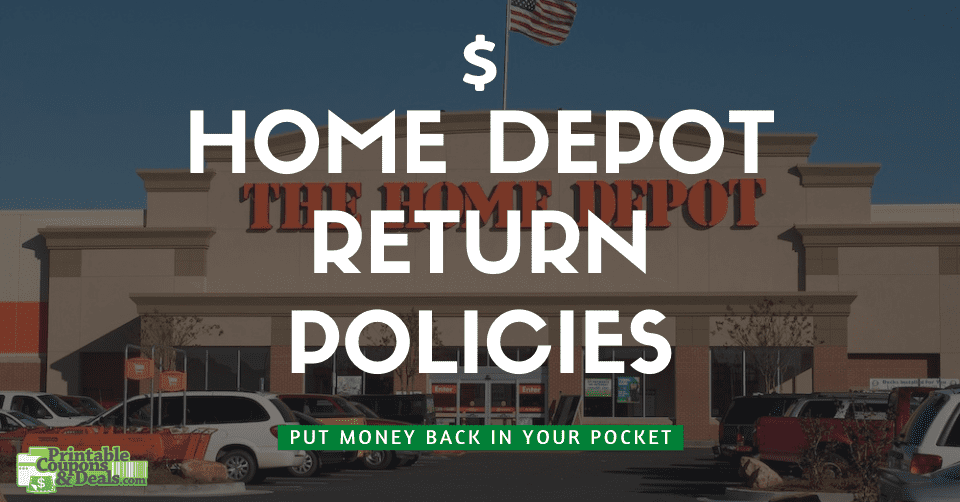 Have something you need to return to the Home Depot? As they like to say, we can help! While it's relatively simple to make returns here, there are a few points you should know if you're a contractor or if you've ordered something custom. We spent a lot of time going through Home Depot's return policies and exceptions to give you all the information you need, in one place, so you can get your money back quickly.
In this article, we clear up all of the uncertainty. Read on to learn everything there is to know about the Home Depot's return policies.

The Guide To Making a Return at The Home Depot
How long do I have to return items to Home Depot?
Home Depot is actually notably lenient with their return policies — especially for new items that have not yet been opened. Assuming you're able to provide proof of purchase, Home Depot will accept most returns up to 90 days from the time you initially bought the item.
It's also worth noting that items that have been purchased with a Home Depot credit card may be eligible for a longer return period of up to a year. The same holds true for people who have a commercial account, or contractors who have utilized the Home Depot Commercial Revolving Charge Account.
Do I need the original packaging to make a return?
Home Depot prefers all returns to be made with the original packaging still intact. While the packaged material does not need to be in like-new condition, being able to bring it, along with a receipt, will make the return process smoother. That said, the company may accept items without the original packaging — as long as all parts and accessories are present.
What is Home Depot's return policy for open box items?
Home Depot will accept items that have been opened, provided the return happens within the allotted time frame for that item and comes with a receipt.
What is Home Depot's return policy for used items?
Used items are usually accepted on a case-by-case basis. As with most major stores, the ultimate acceptance or denial of the return may depend primarily on the extent to which it has been used and how long ago the purchase was made.
How long do Home Depot buy returns take to process?
The amount of time it takes for a return to process will depend mostly on the method of purchase. Cash and gift card transactions are refunded in store immediately at the time you bring your purchase in.
Credit or debit returns, on the other hand, may take between 2-10 business days to show up on your statement.
Customers mailing their returns will need to factor in the amount of time it takes the item to ship back to the store on top of the typical reimbursement times above.
How will I be refunded for my return?
If you have valid proof of purchase, you can make an exchange, get a refund in cash, have the amount credited to your account, or refunded for store credit. Are there any in-store return exceptions? Refunds are refunded in the method of payment used, except for gift cards and cash over $1,000. Gift cards will be returned as store credit and they'll cut you a check for anything over a grand originally purchased with cash.
However, there are situations when a refund to the original method of payment may not be possible. For example, if you are returning a gift, Home Depot will usually offer the refund in the form of a gift card if you are in possession of a gift receipt.
Does Home Depot return sales tax on a purchase?
Home Depot refunds sales tax on purchases.
Are there any items I cannot return to Home Depot?
You can't return major appliances; gift cards or store credits; whole house and stationary generators; utility trailers; cut flowers and floral arrangements; labor, delivery, and installation services; product samples; and custom pieces.

Are there any return exceptions?
Home Depot does stipulate some exceptions to their return policy. We've compiled them here:
You have 30 days to return the following:

Furniture
Area Rugs
Gas Powered Equipment and Tractors
Generators (other than Whole House and Stationary Generators)
Consumer Electronics (Televisions & Computers)

90-day return policy for anything purchased from the Home Depot Design Center (and you must return it to the same location), plus you may be subject to a 15% restocking fee on certain items.
Custom blinds are subject to their Guaranteed to Fit policy and can be exchanged, though it's limited to four blinds per household. You'll get the same brand and color, though there may be a price adjustment. You also must make your exchange within 15 days of receipt. If you received incorrect product, please call 1-800-921-2119 for a replacement.
Hazardous material cannot be returned by mail.
What is Home Depot's holiday and Christmas return policy?
Home Depot does not have any stated return policy that is specific to holidays.
Can I return items purchased with a gift card?
Items that have been purchased with a gift card can be returned for store credit.
What is Home Depot's return policy for plants & trees?
Home Depot allows for the return of perennials and shrubs for up to a year following the point of purchase under the Everyday Guarantee. Additionally, customers have three days to report the delivery of damaged or dead plants for which they will be given a free replacement.
The Home Depot also has the Exclusive Grow a Garden Guarantee, which guarantees a harvest from your Bonnie plants and Miracle-Gro soils and plant foods. If your plants fail to produce during the growing season, you can get a refund. Home Depot's website has the following to say about how to get your refund:
Bring in your Bonnie plant and purchase receipt(s) to your local Home Depot;
Your receipt(s) must show a purchase of the Bonnie plant AND/OR Miracle-Gro soil and/or plant food product purchased within 3 days of one another; and
Your purchase must have been within the last 12 months† († Receipt(s) must show Bonnie Plants® and Miracle-Gro® purchase for a full refund of your plant and Miracle-Gro® purchase. If the purchase was made more than 180 days ago, the refund will be issued as a store credit unless purchased on The Home Depot Consumer Credit Card; then you have 365 days from date of purchase to receive a full refund.)
What is Home Depot's return policy for appliances like refrigerators, generators, air conditioners, water heaters and washing machines?
Certain major appliances, like generators, are eligible for return, but at a reduced time frame of 30 days after the point of purchase. Other appliances, such as those listed above, may not be eligible for return except in the event of malfunction. Their website says, "the product may be returned if the defects and/or damage are identified and reported to The Home Depot by calling (800) 455-3869."
What is Home Depot's return policy for paint?
Customers have 30 days to bring paint in for an exchange or correction. That's their Paint Satisfaction Guarantee Policy. However, Home Depot disqualifies "oopsies." For example, if you fail to properly prepare your wall, or incorporate third-party products into the paints, you will not be eligible for their return policy.
What is Home Depot's return policy for items purchased online? Can I return items purchased online in-store? Can I return items purchased online through shipping?
Orders made at homedepot.com can be returned through the mail or in person at the store. The company encourages customers to bring in all of their order information to make the return go as smoothly as possible.
There is customer support available for UPS returns. They'll help you schedule the pick up of your items. They can be reached at 1-800-430-3376.
Do I need a receipt to return items at Home Depot?
No, but if you don't have a receipt, or made a purchase using store credit, you need to bring government I.D. for the return. A third-party refund verification system will need to approve the return, which will then be issued as store credit.
If the purchase was within 30 days and you used a credit card or check, staff can look your order up in the sales system and find your receipt. Even better, purchases made with one of the membership programs can be found for up to 365 days.
What is Home Depot's return policy for lawn mowers?
Lawn mowers can't be returned by mail and must be returned in 30 days as per Home Depot's policy on gas-powered equipment.
What is Home Depot's return policy for tools and power tools?
Home Depot's return policy for tools and power tools is the same as that of most purchases. Customers with a receipt are able to return their tools within 90 days of their point of purchase.
What is Home Depot's return policy for lumber?
Home Depot allows customers to return unused lumber for up to 180 days after purchase. This number increases to up to a year in the event that you are enrolled in one of the company's various membership programs.
What is Home Depot's return policy for furniture?
Customers are able to return furniture for 30 days after purchase.
What is the return policy for items shipped to the store?
Items that were shipped to the store may be returned in person at any Home Depot location.
What is Home Depot's return policy for Hazardous Materials?
Home Depot does not allow for the return of hazardous waste through the mail. If you have materials that are flammable or otherwise toxic to return the exchange must be made in person.
What Merchandise is non-returnable or non-refundable at Home Depot?
Per Home Depot's website, these materials are considered non-refundable:
Major Appliances
Gift Cards and Store Credits
Whole House and Stationary Generators
Utility Trailers
Cut Flowers and Floral Arrangements
Labor, Delivery, and/or Installation Services
Product Samples (e.g. Paint, Flooring, Fabric, and Wallpaper)
Custom Products, including: Blinds, custom measurements, and any product that has been adjusted to suit uncommon dimensions.
What is the Home Depot return policy for merchandise ordered from third-party, marketplace sellers?
Home Depot only guarantees returns on items they sell. Third-party sellers have their own refund policies.
How do I return a product that is too large or heavy to be returned to a store or in the mail?
Home Depot asks that you contact a Customer Care Specialist at 1-800-430-3376. They're available seven days a week, from 6 a.m. to 2 a.m. EST.
If I have a question about a return, who do I contact?
Customer Care specialists can be contacted at 1-800-430-3376 for questions regarding returns.
Are original and return shipping charges refunded?
Home Depot will refund all shipping charges upon return. Exceptions may apply on express delivery and major appliances, though. Items must be returned with all of their components for a full refund.
We hope in those instances you need to make returns that they go smoother thanks to the Printable Coupons and deals Home Depot return policy tips and summary. We do our best to make sure to update this post with any changes but always feel free to check The Home Depot for any new updates we might have missed.
As always if you have any questions feel free to leave a comment and we will do our best to respond quickly with an answer.
If you are looking for coupons to use we have candy coupons, baby coupons, laundry coupons, and much more that you can find in our Coupon Center.